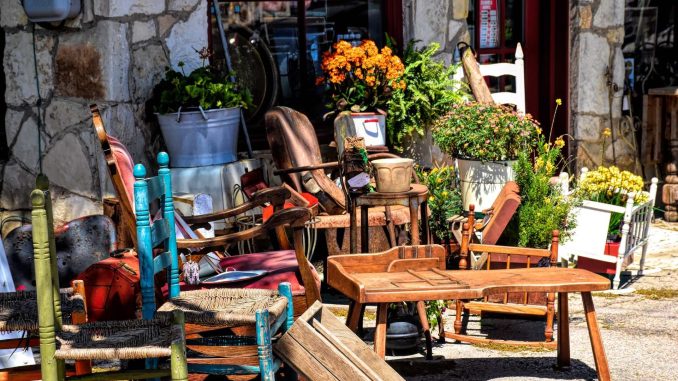 Looking to buy second hand furniture? You don't need to step out of your comfortable home and search for used furniture stores near you. There are plenty of online pre-owned furniture stores that offer a wide variety of used furniture, ranging from high-end vintage and antique furniture to bargain-priced second hand furniture.
Table of Contents
High-end online used furniture stores:
1. Chairish
If you're looking for a unique piece of vintage furniture, Chairish is one of the best online second-hand furniture stores. This high-end online home furnishings and art marketplace claims to have over half a million (and counting) gently used items for sale, and 85% of their inventory is vintage.
With funky furniture, designer finds, and discount designer furniture, you can be sure that you're getting a great deal when you shop at Chairish. You can also find designer furniture that is both affordable and unique, such as the Tom Dixon Chair, which is designed to give you a gentle massage.
Chairish specializes in higher-end pieces only. Prices tend to be comparatively higher than at some other online second-hand furniture stores. It is the place to shop for high-end vintage furniture at mid-range prices.
It's free to list furniture pieces on Chairish. The site charges a commission of 20 to 30 percent of the sale price and will arrange shipping through reputable home furniture movers.Buyers have 48 hours to return the item if they are not satisfied with the purchase.
Chairish is Newsweek's "Best Online Shop" of 2021, and winner of the USA Today Reader's Choice Award for "Best Place to Shop Online for Furniture and Home Decor."
2. 1stDibs
Like ChaLike Chairish, 1stDibs sells upscale antique and vintage furniture. It has a reputation for selling authentic furniture. All sellers are vetted and approved before they can add a listing. 1stDibs only admits prestigious sellers and galleries. They do not allow consumer-to-consumer listings.
1stDibs is for those with high-end taste and deep pockets. It is where you'll find the pricey stuff! If you are looking for the best of the best and are willing to pay for it, then 1stDibs may be the perfect furniture store for you.
3. Kaiyo
Kaiyo is an online used furniture store where you can get high-end, name-brand furniture at a hugely discounted price. Buyers can save up to 90% on top brands, such as Restoration Hardware, West Elm, Room and Board, and more. Kaiyo vets, cleans, delivers, and assembles. They claim to be the marketplace for pre-owned furniture that's made to last.
For sellers, Kaiyo handles all the heavy lifting, from pick up to delivery, and everything in between.
4. AptDeco
At AptDeco, you can find trustworthy brands like BoConcept, Room & Board, and West Elm for a fraction of the price. This second hand furniture site handles everything from pick-up to delivery.
AptDeco claims to be a platform where users can shop for used furniture brands or sell their own furniture without the hassle. They offer a money-back guarantee to buyers.
5. Sotheby's Home
If you're looking for second hand furniture from big-name designers, then definitely check out Sotheby's Home. They only carry high-end brands, and have a minimum established resale value of $1,000 for furniture pieces. You won't find Ikea, Ethan Allen, or Pottery Barn there.
Online second hand furniture marketplaces:
6. Craigslist
For many, Craigslist remains the place to find good bargains on used furniture. Since its launch in 1995, the site has barely changed its look. However, because of its vast number of daily users and no-frills listing function, this site attracts many used furniture sellers and buyers every day.
You can find great used furniture deals on Craigslist. Most furniture, including couches, dining tables, and chairs, can be had for a steal if you know where/how to look. You can search Craigslist for deals by city, region, or condition.
Craigslist serves as a platform for posting used furniture for sale by owner information, and leaves bargaining and negotiating to the sellers and buyers themselves. They do not vet furniture pieces listed on their site. Buyers need to conduct their own due diligence.
7. Amazon
Amazon sells a wide selection of furniture on its site. Many may not know that Amazon also sells used furniture. Simply filter by "Used" condition to start your search. Amazon shows two prices: brand new and "Save with Used".
8. Facebook Marketplace
The Facebook Marketplace is a one-stop-shop for used furniture, appliances, and other household items. But unlike other online marketplaces, such as Amazon, Facebook Marketplace offers a unique experience where users can interact with the seller and ask questions about the product. This allows users to get a better feel for the product and make a more informed purchase decision.
The Facebook Marketplace is super easy to use. You can search locally and filter down by many categories (a function that Craigslist lacks). All users (buyers and sellers) have to have a Facebook account. Given that people's profiles are attached to their listings, this adds a level of security above and beyond what you get by blindly trusting a stranger on Craigslist.
And the Facebook Marketplace is completely free!