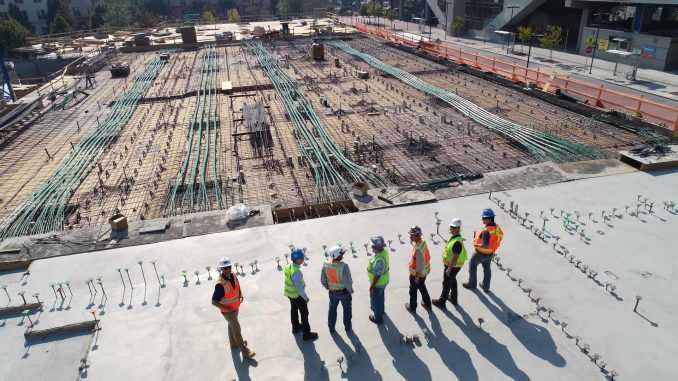 The United States construction industry is forecast to grow by 8.8% in 2022, and the growth momentum is expected to continue during the 2022-2026 period. If you are hard-working and enjoy working as part of a team to build, repair, and maintain buildings and structures, then a career in the construction industry can be rewarding. Companies are hiring roofers, carpenters, electricians, concrete finishers, painters, etc. There are many different types of construction jobs. If you have the right skill set, you are in high demand.
Below are some of the most common types of jobs in construction:
Table of Contents
Construction jobs that don't require a degree:
1. Construction worker: Median salary – $38k/year
Construction workers perform the primary physical tasks most people associate with construction, such as clearing, digging, and building. This construction job doesn't require formal training or specialized skills. Many workers are trained on-the-job.
Unions frequently recruit construction workers from high schools and technical schools, as well as people with military backgrounds.
2. Painter: Median salary – $42k/year
Painters work indoors or outdoors, applying paint and finishes to surfaces ranging from houses to bridges to the exteriors of office buildings. This job doesn't require any specific education.
3. Concrete Finisher: Median salary – $46k/year
Concrete finishers perform specialized masonry work with poured concrete, involving sidewalks, roads, curbs, and even buildings. They follow the trucks that pour cement to ensure the cement is smooth and level. They correct high spots, patch voids, finish the corners, use saws to cut expansion joints, and wash away the excess cement.
This job does not require formal training. On-the-job training is essential for concrete finishers. The hands-on experience is typically gained through an apprenticeship.
Demand for concrete finishers is declining.
Construction jobs that only require a high school diploma:
4. Electrician: Median salary – $57k/year
Electricians install, maintain, and repair electrical systems and wiring in residential and commercial buildings. They also make sure electrical work is up to code.
Electricians must go through at least four years of training as apprentices, followed by the licensing their state requires.
5. Plumber: Median salary – $56k/year
Plumbers install, maintain, and repair the pipes and fixtures that make up the plumbing systems in residential and commercial buildings. They handle the installation of hot and cold water systems and central heating systems. They ensure that water reaches fixtures such as bathtubs, showers, sinks, and toilets.
6. Glazier: Median salary – $46k/year
Glaziers cut and install glass in all types of buildings, from homes to skyscrapers. They cut the glass to the required size, shape, and thickness for windows, skylights, storefronts, and display cases.
Although a high school diploma is generally sufficient for this type of job, employers are increasingly seeking candidates with multi-year training and apprenticeships.
7. Carpenter: Median salary – $50k/year
Carpenters build, remodel, install, and repair building structures and frameworks such as doorframes, stairways, rafters, partitions, counters, and cabinetry using wood and other materials.
Carpenters frequently perform calculations ranging from simple math to complex trigonometric formulas. They need to know how to read blueprints and building plans, as well as how to correctly measure, cut, and shape the materials they work with.
8. Brickmason: Median salary – $55k/year
Brickmasons use bricks and structural stone blocks to construct and polish residential and commercial walls as well as fireplaces, patios, walkways, fences, and decorative trim work.
A high school degree or its equivalent is typically required for masons. Extensive training and on-the-job apprenticeship programs are also needed.
The career outlook for brickmasons is on the decline.
9. Roofer: Median salary – $44k/year
Roofers install, replace, and repair roofs on residential and commercial buildings. They deal with various roofing materials such as asphalt, wood, and plastic.
At a minimum, roofers are required to have a high school diploma or its equivalent.
10. Solar photovoltaic installer: Median salary – $46k/year
To promote the adoption of solar energy, federal and local governments are offering several forms of incentives to encourage people to install solar panels. As more families make the switch, solar photovoltaic installers have become a fast growing construction job. The Bureau of Labor Statistics projects 52.1% employment growth for solar photovoltaic installers between 2020 and 2030.
Solar photovoltaic installers assemble, install, or maintain solar photovoltaic (PV) systems on commercial and residential roofs or other structures in compliance with site assessment and schematics. Solar photovoltaic installers need to have at least a high school diploma. Many have some sort of experience in mechanical or electrical installation.
Construction jobs that require a college degree:
11. Construction manager: Median salary – $97K/year
Construction managers plan, coordinate, and oversee all aspects relating to a construction project. They obtain work permits, negotiate project costs, hire and train all workers and subcontractors, create project timelines and worker schedules, troubleshoot emergencies, keep clients informed of work and progress, and supervise all workers to ensure the project remains compliant, on schedule, and within the budget.
This job typically requires a bachelor's degree in a construction science or construction engineering program. Although not required, earning certifications for construction managers can be helpful in advancing one's career. The Construction Management Association of America awards the Certified Construction Manager (CCM) designation, and the American Institute of Constructors awards the Associate Constructor designation to those who have the required experience and pass a technical exam.
12. Civil engineer: Median salary – $84k/year
Civil engineers design construction projects and ensure the project's goals are both achievable and feasible. They analyze factors such as budget requirements, soil composition, and government regulations in order to determine whether projects meet the mandated and general legal and health and safety requirements.
This job requires at least a bachelor's degree. Civil engineers who provide their services to the public must complete professional engineer (PE) state licensing requirements. Requirements generally include accruing four years of work experience and completing two exams administered by the National Council of Examiners for Engineers and Surveyors.