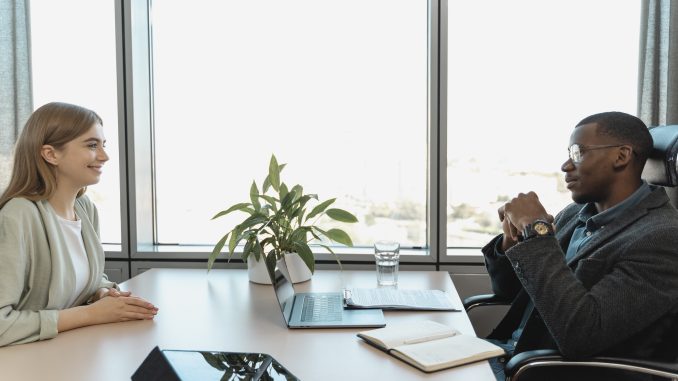 When you go into a job interview, you might be surprised that a job interview panel asks you, "Where do you see yourself in 5 years?" The truth is that employers aren't necessarily interested in your detailed career goals, or invested in helping you achieve them. If you want to know how to answer where do you see yourself in 5 years, read on below for a quick and short explanation.
To prepare for the where do you see yourself in 5 years interview question, research the company you are applying for and carefully look at the position and the skills necessary to achieve the position. Prepare an answer that lets the company know you want to be hired for the long term, and want to grow with the company or at least stay in the same field of work.
Table of Contents
Why Do Employers Ask "Where Do You See Yourself in Five Years?"
This question might make you think that an employer has now gained an interest in you and is ready to make a commitment to helping you achieve your career goals..right? Wrong.
This is a test question that is meant to gauge where you are in terms of intentions for getting hired. Hiring people takes a lot of time, money, and effort for employers. They don't want to hire a candidate only to have that candidate leave their company in a matter of months or even weeks.
This is why employers ask their candidates where they see themselves in 5 years, since this question lets employers choose the candidates that will be worth the investment in training and hiring.
In addition, companies of all sizes want a candidate that knows the company well and has a good sense of why they want to work for a company. For instance, working for a publishing company might not be the best way for authors to publish their books, but can be a good way to be part of the preparation process for books. A candidate that can distinguish between the two is a better candidate than someone who simply wants to get their "foot in the door" or has no idea what the position actually entails.
How to Prepare Your Where Do You See Yourself in 5 Years Sample Answer
DO ask yourself truly, "Where I see myself in 5 years," and make a list if need be.
DO research the company website and the job position thoroughly. Determine if this is an entry level position that has the potentially of helping you rise through the career ladder, or if you will need to eventually move to a lateral position.
DO be honest with yourself and know that employers can tell when our enthusiasm is real or rehearse
DON'T lie to yourself and waste your time (and the employers time) applying for a position you know you will quit in a matter of weeks or months. This energy could be used to find a position you truly value.
DON'T apply for a position not knowing the specific skills or job requirements behind it.
DON'T admit to your recruiters that you are unaware of where you will be, as this makes you seem unprepared. Have at least one good answer, whether it's continuing education, becoming a leader, or refining your skills.
DON'T hint at the possibility of you changing careers, since this might make recruiters think you will change them sooner rather than later and therefore quit.
Where Do You See Yourself in Five Years Examples
"I plan on using the skills learned at this position to become a supervisor or a leader within this company. I feel like this position will help me get a better understanding of the company itself and therefore be prepared to lead others in the company."
"I want to be able to use my design skills for a bigger audience. I understand the company wants someone who can help in their expansion efforts, so I want to be able to help with those expansion efforts as well."
"I want to go back to school and earn my MBA. I would like to use this in order to be a more effective team leader and work with bigger clients."
Alternative Where Do You See Yourself in 5 Years Questions
How do you see yourself in 5 years?
What are your long-term goals?
What are your short-term goals?
Why do you want to work for us?
How can this company help you achieve your goals?
Do you plan on changing careers?