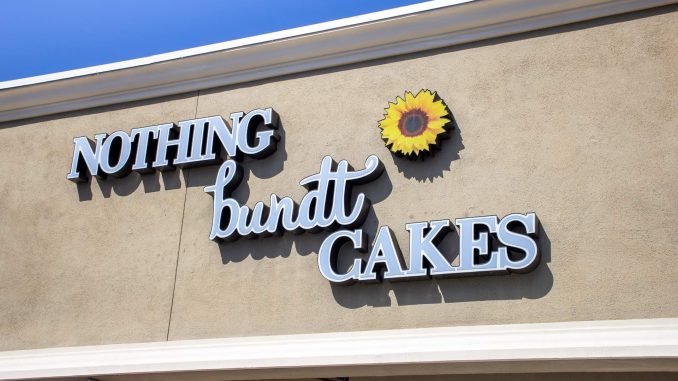 What's better than getting a Nothing Bundt Cakes birthday cake? Getting a Nothing Bundt Cakes free birthday cake. The popular bakery lets you have your cake and eat it too. There's also something in the Nothing Bundt Cakes birthday reward that makes it stand out from other birthday offers. Stay tuned to find out!
Table of Contents
How Do I Get the Nothing Bundt Cakes Birthday Freebie?
The simple part of this is signing up for the eClub through the website. There isn't an app for the bakery, so all the sign-ups need to happen via a desktop, laptop, or mobile browser. Look in the bottom right corner to find the sign-up form as it's not on the top menu.
Once you enter an email, you'll be prompted to give your name, city, state, preferred bakery location, and birthday. You only have to enter the month and date of your birthday, not the year. From there, you're signed up for the Nothing Bundt Cakes birthday club and other special treats.
Signing up for eClub vs Signing up for Nothing Bundt Cakes Account
Here's the thing – when you sign up for the eClub, you are only opting in to get free coupons throughout the year. You are not creating an account and don't have to enter a password. If you want an account, you can click the person icon in the top right corner. Here you'll have to enter an email address, phone number, name, and password. You can click to opt into the eClub while you are creating an account.
Is There an Age Limit for the Nothing Bundt Cakes Birthday Reward?
The truth is, it's all based on the honor system. Since you don't enter a year of birth during the sign-up process, you agree to the Terms & Conditions stating you are not under the age of 13. Anyone who is 13 and older can sign up for the eClub.
I'm a Parent. Can I add My Children to My eClub Account?
That's the bad news. You can't add your children and their respective birthdays to your eClub account. You'd have to create an account for each child 13 and older.
What Is the Nothing Bundt Cakes Birthday Reward?
Now to the best part! When you sign up for the eClub, you select your favorite cake flavor. When you go to redeem your birthday reward, you'll be able to choose a bundtlet in any flavor you want. There isn't a designated birthday bundtlet that goes to all birthday recipients.
It's great to be able to custom tailor the gift, unlike a certain house of pancakes that only lets you get buttermilk pancakes for free while missing all the other great flavors.
What the Heck is a Nothing Bundt Cakes Free Birthday Bundtlet?
Don't get bundt out of shape. We'll explain. A full-sized bundt cake is either 8″ or 10″ large and can serve multiple people. A bundtlet is a single-sized serving made in the shape of a mini bundt cake. That means you don't even have to share or offer a bite of your birthday gift.
Is There a Time Limit to Redeem My Nothing Bundt Cakes Free Birthday Cake?
The best part of the process is you'll be emailed your birthday coupon a week before your birthday. The bakery doesn't set a time limit for redemption, but it's generally wise to use a coupon during your birthday month.
How Good of a Deal is the Nothing Bundt Cakes Birthday Freebie?
The icing on the cake is that you'll get a $4 value when you pick up the bundtlet. If you pair it with the Starbucks birthday freebie, you have a great sweet afternoon snack on your big day.