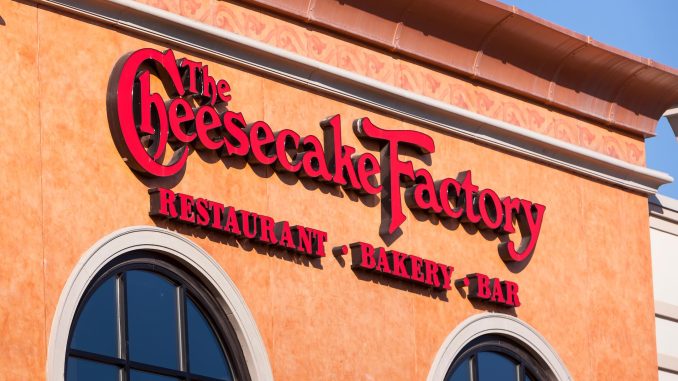 One of the best parts of a birthday could be The Cheesecake Factory birthday freebie. The popular restaurant has long been one of the remaining places that offer a birthday surprise without having to go through a reward enrollment or bringing a coupon. Changes are coming to The Cheesecake Factory in 2022, so before your next birthday, get the new information.
Table of Contents
Do You Get Free Cheesecake at Cheesecake Factory on Your Birthday?
No and yes, which is a terrible way to answer a question. Here's the deal. Cheesecake Factory will give you a personalized decorative plate if you order dessert during your birthday lunch or dinner. The Cheesecake Factory birthday reward for those who didn't order a dessert is slightly different, but it is free.
We offer a complimentary birthday sundae with a tiny 'scoopette' of vanilla ice cream, fudge, and top it with a crown of whipped cream, confetti pieces and a candle."
Wait, there's more. The company is rolling out a new rewards program available only in Houston as of September 2022. As the rewards program gets perfected, anyone who is a member will get a Cheesecake Factory birthday free slice of cheesecake.
How Do I Get My Cheesecake Factory Free Birthday Dessert?
That's the really easy part – for now. All you have to do is tell your server that you are celebrating a birthday. They'll take care of the rest and likely remind you, with a wink, to save room for dessert. You will need to provide the name of the person celebrating so the plate can be customized by the bakery artist.
Can I Get Anything Else Free Besides The Cheesecake Factory Birthday Reward?
That's another great thing to celebrate. You can get a customized plate decorated for any celebratory event – graduation, anniversary, engagement, new baby – you name it! Again, you just have to let your server know who is celebrating, how to spell their name(s), and they'll take care of the rest.
What Can Customers Expect for a Future Cheesecake Factory Birthday Freebie?
This is where the news gets even better. The Cheesecake Rewards program is a system without points or earnings. You just sign up and reap the rewards. How do you get free cheesecake at Cheesecake Factory on your birthday in the future? You just tell your server you're a member, and you'll get a free slice, assuming the program doesn't change from its beta test in Houston.
HOUSTON CUSTOMERS: Sign Up Now!
The new rewards program will also allow you to make reservations and get exclusive discounts. It's great to know the Cheesecake Factory birthday special will always be available. Sign up for emails to know when Cheesecake Rewards is coming to your location.