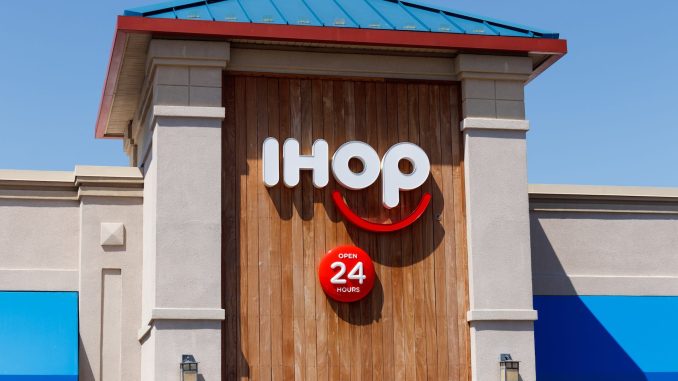 IHOP is one of the best places to start a birthday with its reward program that gives you a free stack of pancakes. The free birthday IHOP pancakes can't be obtained just by showing your ID, so let's go through the steps you need to take to qualify.
Table of Contents
Batter Up to Get Birthday Pancakes IHOP Style
There are several steps for how to get free pancakes at IHOP on your birthday. First, you need to sign up for the rewards program. You will have to enter your personal information, including your name, email address, and your preferred IHOP store.
Entering your birthday is optional, but you won't be eligible for IHOP birthday pancakes if you don't. The website and app do make you put in a full birth date, but for safety, we recommend entering a fake year. As long as you make yourself at least 18 years old, you'll be eligible. Enter your birthday at least seven days before the actual date to get the free pancake reward. 
Will I Get A Free IHOP Birthday Gift Coupon?
There's a new process for birthday pancakes IHOP offers in the form of the International Bank of Pancakes (IBOP). As you make purchases, you'll earn "PanCoins." You cash in PanCoins for menu items throughout the year.
Instead of getting a coupon mailed or emailed for the free birthday breakfast IHOP provides, you'll get five PanCoins in your IBOP account. Those five coins can be exchanged for a full stack of buttermilk pancakes. To make it easy, digital coupons will pop up in the "Stack Market" showing the items you can buy for a certain amount of PanCoins.
3 PanCoins: Short stack of buttermilk pancakes
5 PanCoins: Full stack of buttermilk pancakes
8 PanCoins: Any Kids Meal
12 PanCoins: Any burger or sandwich
15 PanCoins: Free burrito
20 PanCoins: Full stack of any flavored pancakes
30 PanCoins: Omelette of your choice or any breakfast combo
PANCOIN SAVING TIP: Kids eat free at IHOP with an adult meal purchase from 4:00 pm – 10:00 pm daily, so don't waste PanCoins on a kid's meal. 
How Long Until the Free Birthday IHOP Pancakes Offer Expires?
You should get the PanCoins in your IBOP account no later than your birthday, but they could show up anytime the week before. You have 14 days to use the reward before it expires, but that could change. Be sure to check the digital PanCoin coupon for the exact expiration date.
Are There Any Other Benefits Aside from Free Birthday IHOP Pancakes?
When you sign up for a rewards account, you'll get a code for 20% off your first IHOP purchase. You'll also earn one PanCoin for every $5 in IHOP purchases.
National Pancake Day is actually a holiday invented by IHOP, so mark your calendar for Fat Tuesday (the day before Lent starts) and check out the special IHOP offers. It's usually a free short stack of pancakes with any purchase.
Parlay Free Birthday IHOP Pancakes into a Big Breakfast
It's your birthday, so why not parlay your birthday rewards and have two breakfasts? You can enjoy the free pancakes at IHOP for your sweet tooth and then head over to Denny's for a free Triple Slam salty birthday reward.