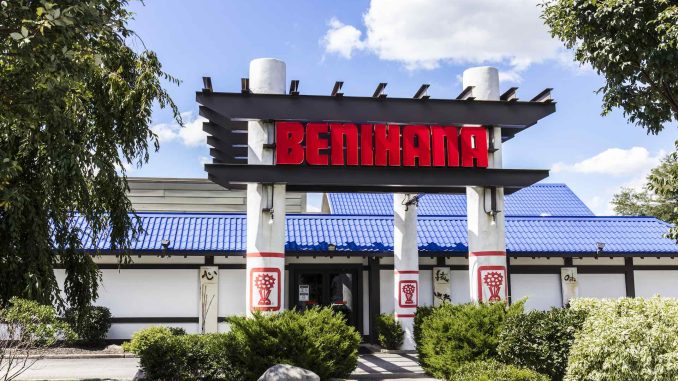 Benihana Sushi and Japanese Steakhouse celebrates birthdays along with you in unique ways. The restaurant touts itself as being so much more than a meal. It's a true experience to see the teppanyaki chefs slice and dice their way across the dinner table. A birthday Benihana meal is all that more special too.
Table of Contents
Is There a Benihana Birthday Club?
One unique part about the Behinana birthday reward is that adults and kids get their own birthday gifts. There are separate Benihana birthday clubprograms.
A parent must register a child for the Kabuki Kids program and be a member of The Chef's Table themselves. The adult can sign up for the Benihana birthday club at the brick-and-mortar location or online. You should not sign up at both locations.
Who Gets a Benihana Free Birthday Meal?
Here's the deal, literally. Birthday boys and girls and adults over the age of 12 will get a $30 Benihana birthday gift certificate emailed to them. You should check your spam filter or whitelist the email address TheChefsTable@benihana-news.com. The unique markings on the Benihana birthday gift certificate make it more likely to go to your spam folder than other Benihana coupons and offers.
Children 12 and under will get a free mug (it's really a plastic cup with a lid) with the purchase of a kid's meal at Benihana. If you are having a child's birthday party at Benihana, you can get a maximum of eight cups.
How Do I Redeem Benihana Birthday Rewards?
Benihana makes it as difficult to redeem a certificate as it is to slice a fiery onion with your eyes closed. Ok, that's a little dramatic, but there's a lot of fine print in the Benihana coupon birthday process.
Print out the coupon: For both adult and child Benihana birthday rewards, you need to print the email containing the certificate. Do NOT copy this certificate once you've printed it. Servers will only accept original printed versions.
Bring an ID: For those old enough to have a driver's permit or license, you'll need to show that to your server when you hand over the certificate. For those under 13 years old, you'll need either a school ID or a birth certificate.
Is That All the Fine Print for the Benihana Birthday Club?
Oh, no, there's more. You can only redeem Benihana birthday gift certificates from Monday through Thursday during the restaurant's dinner time. For the $30 reward, you can only use it for food, not alcoholic drinks.
We're not done yet. Then there's the rule that you can't use the $30 reward during Happy Hour of Banzai Hour because the certificate isn't valid in conjunction with other offers.
Let's examine this limitation.
You can only use the coupon during dinner hours, which are 4 pm – 10 pm or 11:30 pm in some locations.
You can't use it during happy hour, which is 4 pm – 7 pm in select locations.
That means you can only use the Benihana Birthday Club certificates between 7 pm and 10 pm in most locations.
When Will I Get My Benihana Birthday Coupon?
We've got to go into more fine print. Benihana asks that you don't use an email address from Comcast, Facebook, June, and NetZero. This is because those email servers allegedly block the Benihana birthday coupon.
The certificate will be emailed to you up to 10 days before your birthday and you'll have 29 days from the date of issuance to redeem it. There are no exceptions for lost certificates or misplaced certificates found at a later time. You can't even show the certificate to your server from your mobile device.
Is the Benihana Birthday Deal Worth It?
If you are a stickler for details and following the rules, and don't mind if the kids stay up a little later, then Benihana is a unique dining experience to enjoy with family or friends. The average meal at Benihana can cost anywhere from $30 to $80 before adding in alcoholic drinks, so that $30 will make it more affordable.