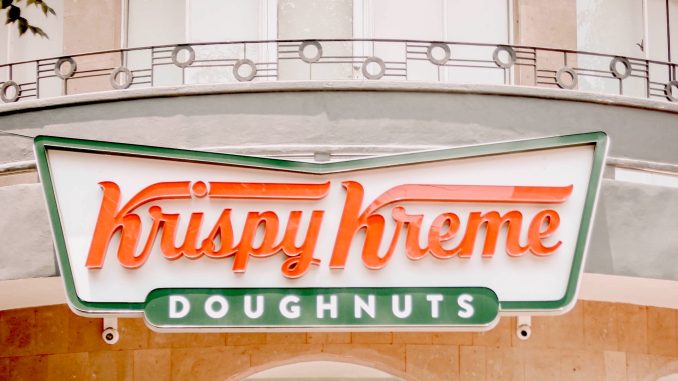 If you're looking to get some dough on your birthday, look no further than Krispy Kreme Birthday Rewards. While it's not the cash you might have been hoping for, it's a great way to cash in on the Krispy Kreme birthday free dozen of doughnuts to sweeten up your day.
Table of Contents
Does Krispy Kreme Do Birthday Donuts?
The answer is glazed over with a big "Yes!" You do have to be a member of the Krispy Kreme Rewards program to get Krispy Kreme birthday donuts, but if you eat there often you might already have a rewards account.
Are There Any Krispy Kreme Free Stuff Rules?
You do have to follow the specific instructions to sign up, but there are about a dozen reasons why it's a great deal. You can either download the app or sign up for a rewards account online. When you sign up, you can start celebrating Krispy Kreme birthday special offers early. You get a free donut just for signing up.
How Will I Get the Krispy Kreme Birthday Offer?
You do have to enter your birthday when you sign up to be eligible, but the way the sign-up is designed, you can't sign up without entering a birth month and date. No year is required. If you type in the wrong birthday, you can always correct it by contacting Krispy Kreme.
You do need to check if your local location participates in the birthday freebies Krispy Kreme corporate allows. Once you have earned the reward, it will show up in your Krispy Kreme Rewards account.
How to Redeem Krispy Kreme Birthday Reward Without Going to a Store
Krispy Kreme does offer online orders and delivery, but you should verify before the purchase that you can cash in that birthday reward. Krispy Kreme's Terms & Conditions state, "Discounts, coupons, and other offers may not be able to be combined with online ordering."
What Are the Krispy Kreme Birthday Rewards?
You won't want to be a donut hole and miss the Krispy Kreme birthday offer, because you'll get a free dozen of the Original Glazed donuts. No substitutions or upgrades are allowed. This is a $7.99 value, based on the average nationwide price of a Krispy Kreme dozen. You can use this reward for 30 days, starting on the first day of your birthday month.
Is a Krispy Kreme Rewards Account Worth It?
One downside if you don't like giving out your phone number is that you can't sign up for the rewards program without it. To see how Krispy Kreme respects your privacy, read the privacy policy. You can adjust your personal information, but you must contact the company directly to do so.
The benefits of enrolling in rewards go beyond a Krispy Kreme birthday special.
Exclusive Deals: Krispy Kreme birthday free donuts are just the start of the exclusive deals for rewards members. You'll get surprises throughout the year.
Holiday Specials: Krispy Kreme celebrates the holidays with you. For example, on Father's Day, the company offers a buy-one-get-get-one-dozen donuts deal with free delivery.
Unique Offers: Krispy Kreme is offering a summer deal as gas prices soar. For the summer of 2022, every Wednesday, a dozen donuts are valued at the average nationwide price for a gallon of gas.
What is the calorie count of Krispy Kreme Birthday Donuts?
One donut has 190 calories with 100 calories from fat. There are 10 grams of sugar and 3 grams of protein in every donut.
Should I Share the Birthday Freebies Krispy Kreme gives me?
We wouldn't judge you for saving your Krispy Kreme birthday rewards for yourself, but you can share with friends or co-workers to cut down on calories or to leave room in your belly for other great restaurant birthday rewards.