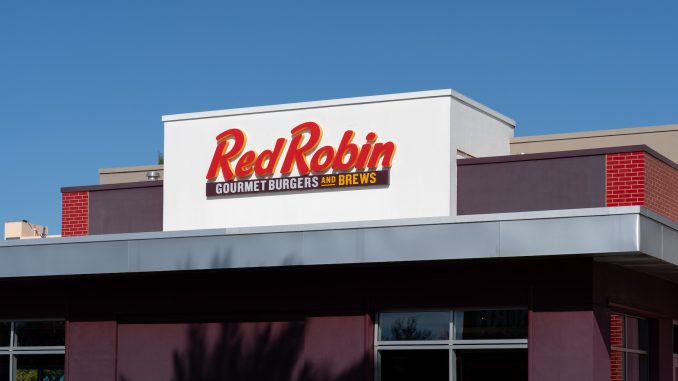 Move over birthday cake, there's a birthday burger Red Robin offers its reward members. The rewards program is called Red Robin Royalty and the Red Robin birthday rewards are just the beginning of the member benefits.
Table of Contents
How Do I Get a Red Robin's Free Birthday Burger? 
There are two easy ways to sign up for the Red Robin Royalty program. You can create an account online or through the Red Robin app.
Creating an account takes a couple of steps when giving personal information.
Name: First & Last are required
Email: No fake accounts, as this is how you'll get your birthday reward
Phone Number: This step is required
Password
As a bonus, you can also check if you are a military member or teacher when you initially sign up. You must also opt-in to emails to get Red Robins free birthday burger and other rewards.
You're not done yet. You'll be taken to an account page where you need to answer some questions to find out how to redeem Red Robin birthday burgercoupons.
Favorite Restaurant: You are required to set a default favorite Red Robin location.
Birthday: You must enter your birth month and year. No date is required.
IMPORTANT NOTE: Red Robin Royalty members will not be sent a verification code automatically. You will need to log into your account page and click on your phone number, which reads "Verify number to earn rewards." You then enter the code supplied via text message. ONLY after this step is complete will you be fully signed up and eligible for rewards.
Can I Sign Up My Kids for a Red Robin's Free Birthday Burger? 
There are several benefits for Red Robin's youngest fans. First, all children eat for half off on Wednesdays. Use the code KIDSMEAL50 when ordering online.
For a birthday burger Red Robin style for kids, you'll go to your Red Robin Royalty account. There's a section in the center of the page that reads, "HAVE KIDS? ADD THEIR BIRTHDAY FOR A FREE BIRTHDAY REWARD."
Limits: You can add up to six children. Kids up to 18 years old are eligible to be added.
Personal Information: You need to add the child's first name only and birthday month, year, and date. Be sure to enter it in the format of YEAR-MONTH-DATE, or else it won't save the child's information.
IMPORTANT NOTE: To redeem a child's Red Robins free birthday burger, you must go to the restaurant and dine in. Adult birthday rewards can be dine-in or takeout.
How Long are Red Robin Birthday Rewards Valid?
This is one of the more generous birthday freebies out there. Red Robins free birthday burger will appear in your Red Robin Royalty account on the first day of your birthday month and will be valid until the end of the birthday month.
Can I Choose Any Birthday Burger Red Robin Has On the Menu?
There are certain restrictions to the birthday burger, but it's a pretty generous policy.
Adults: One Gourmet, Finest, Tavern Double, or Big Style Tavern Burger. No entrees, appetizers, sides, desserts, or drinks are included or even an option.
Kids: Choose from one of the 24 fire-grilled gourmet burgers, but you can't add extras to that as part of the birthday reward.
Details of Red Robin Birthday Deal Requirements
It's simple to double-check if you are set up to get the Red Robins birthday rewards. First, open your Red Robins Royalty account.
The requirements are:
Provide a valid phone number. Your phone number is your Red Robin Royalty account number.
Provide a valid email. Red Robins free birthday burger coupon will come via text message or email. The company is conveniently obtuse about which one.
Add your birthday. It is optional to add a birthday, but if you don't, you won't get the birthday burger Red Robin offers.
Are Red Robin Birthday Deals Worth It?
Here's the thing – in 2022, birthday deals will require a certain amount of personal information. While you can easily set up a separate email account for reward programs, you can't fake a phone number.
If you eat at Red Robin often, you'll enjoy a free item for every 10th purchase. Military members and teachers get special surprises throughout the year, and there's no verification of either job required. Everyone gets "Surprise Rewards" throughout the year.
It's worth it if you like the food at Red Robin and splurge on the endless sides and drinks when you dine in. It's also a much better birthday deal since the burgers are so big at Red Robin. This is a much more filling offer than one free doughnut or a free medium drink offered by some competitors. It's also valid for the entire month, allowing more time to cash in on several birthday freebies at your other favorite restaurants.